The innovative blend of natural oils. The effective hair and scalp care. Concentrated formula of active substances, free from silicones and parabens. It is created for three hair types: needing protection (low porosity), weak (medium porosity), damaged (high porosity). Nanoil hair oils offer a lot.
The effectiveness of hair care depends on us. Is there a woman who wouldn't like to have healthy and waist-length hair? We could do anything to keep our hair shiny. We rarely know what suitable hair care looks like. The result? Styling problems, extreme frizz, excessive hair loss. It must stop! Trust the power of natural ingredients!
The question is How to take care of hair?
Hair oiling is the answer!
Hindu women know this hair care beauty routine perfectly well. You can read about hair oil treatment in hundreds of articles. Natural oils are getting more and more popular because they conceal the most essential thing for healthy hair growth – fatty acids. Human hair is made of keratin and fatty acids. The oils are no longer underappreciated and became a must-have in every woman's beauty bag.
We must know about hair benefits of oils before reaching out for one. The oils are the only cosmetic substances that can be matched to our hair structure and porosity. There are three types of porosity. Low porosity hair has closed cuticles. On the other hand, high porosity has raised cuticles, which leads to hair damage. The last type is medium porosity hair – somewhere between low and high.
Why is Nanoil hair oil worth choosing?
The choice is obvious. We don't know how to choose suitable oils (in good proportions) that would be the best for our hair. Nanoil hair oils for different types of porosity give us a ready-made solution – natural composition of perfectly selected oils enhanced by additional substances e.g. vitamins, silk or keratin. Nanoil is the best product. See it for yourself. Nanoil hair oil:
works on hair surface and penetrates the scalp,
is the one and only oil that matches hair porosity,
is free from parabens and silicones,
reaches the source of all hair problems,
has a weightless, non-overburdening and easily absorbed formula.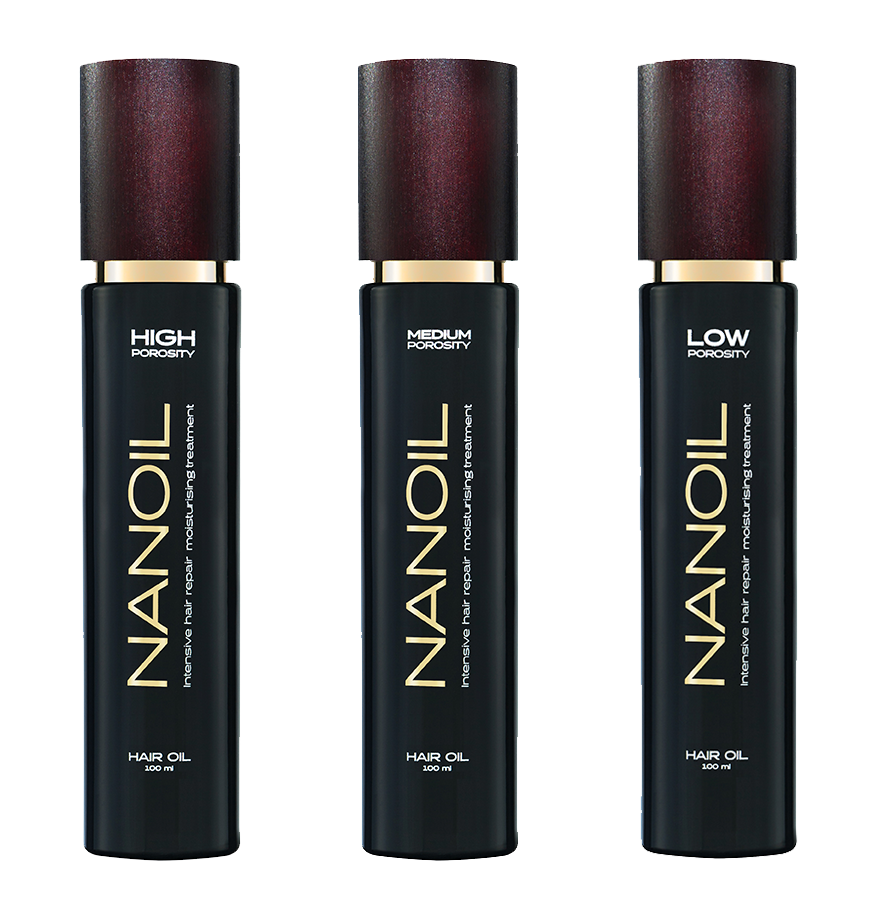 Nature in a fight for volume, easy styling and protection – NANOIL FOR LOW POROSITY HAIR
Problems with low porosity hair are connected with styling. Hair air-dries slowly, resists curling, lacks volume whereas you struggle to lift the roots. Nanoil for low porosity hair contains as many as nine natural oils:
cedar oil, coconut oil, argan oil, castor oil, shea butter, maracuja oil, babassu oil, monoi oil and cupuacu butter.
Thanks to the ingredients, Nanoil speeds up blow-drying and prevents water loss. It enhances the absorption of nutrients and makes hair easier to heat-style. Its formula conditions hair and scalp without weighing down, therefore your hairdo is voluminous and lifted at the roots. Oils control sebaceous glands, so there is no problem with dandruff or greasy hair. Natural components have softening properties. That is why they lock in moisture and create a protective layer. Hair is protected from damaging effects of the sunlight, toxins, weather conditions and high temperature.
Nature in a fight for moisture, nourishment and reinforcement – NANOIL FOR MEDIUM POROSITY HAIR
The qualities of medium porosity hair allow to classify it to the group of most common hair type – not completely healthy yet not destroyed. The biggest problem is dryness, brittleness, hair loss and frizz. Nanoil for medium porosity hair is composed of six oils:
macadamia oil, argan oil, marula oil, jojoba oil, maracuja oil and coconut oil.
The combination of oils strengthens, moisturises and nourishes your hair. It reduces frizz (in contact with dampness), increases shine, adds smoothness and softness. Apart from visual improvement, it also restores vitality by delivering essential nutrients and ensures proper moisture. It coats hair with a protective layer that shields from harmful external factors, prevents water loss and reduces porosity. Hair gets more elastic whereas the scalp – healthier. Hair bulbs are stronger, hair stops falling out and grows more quickly.
Nature in a fight for repair, strength and beauty – NANOIL FOR HIGH POROSITY HAIR
Damaged, dry, brittle, dull, falling out hair with split ends plus scalp problems – these features are characteristic for high porosity. Nanoil for high porosity hair is rich in six oils:
sweet almond oil, evening primrose oil, argan oil, avocado oil, maracuja oil and cottonseed oil.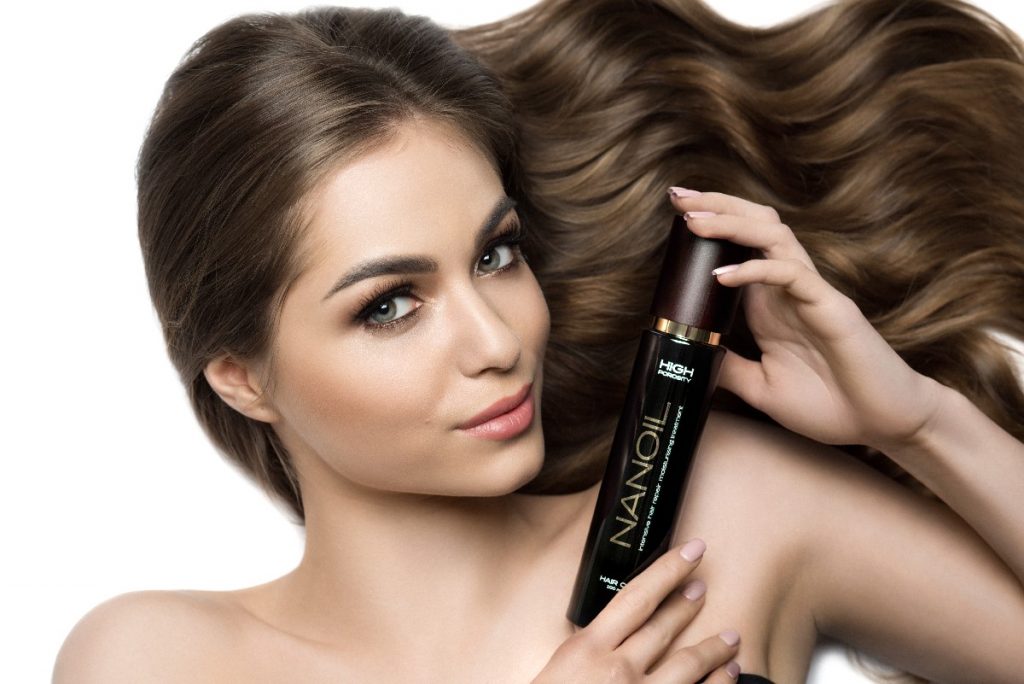 The oils allow for an intensive hair repair, sealing cuticle scales and reconstruction of keratin structure. Weak hair gets stronger from the roots to the ends. Hair tips are protected from the damaging effects of external factors. Complex repair and protection result in better appearance – smoothness, softness, restored shine. Hair stops falling out and grows quickly. Nanoil also solves the following problems: dandruff, scalp irritation, greasy roots and dry hair ends. You can forget about split ends whereas your hairdo gains volume without frizz. The oils add elasticity and keep scalp healthy.