This face and eye makeup remover is recommended by influencers, bloggers, and even professional makeup artists. Are you already familiar with Nanobrow Micellar Makeup Remover? We have rounded up a series of answers to the most important questions about makeup removal and how Nanobrow's unique micellar water works. Find out about its benefits and learn how to use it to achieve perfectly clean skin.
WHAT MAKES MICELLES THE BEST WAY TO REMOVE MAKEUP?
Micelles are tiny, round conglomerates made of amphiphiles – chemical compounds, which distinguish them from other substances. There is a hydrophilic part and next, there's the lipophilic element, otherwise known as hydrophobic that is responsible for transporting water and repelling fats. They work a bit like a magnet: they attract grease and sebum, and break down other impurities in water, without dehydrating the skin or damaging its lipid barrier. This is very important because the skin's hydrolipidic barrier defends us from harmful environmental factors and retains moisture within the skin.
HOW DOES NANOBROW MICELLAR WATER WORK ON THE SKIN?
This product not only perfectly removes all makeup residues (even the long-wear ones), but also has strong conditioning properties: it nourishes, moisturizes, and improves the condition of the skin without disturbing its hydrolipidic barrier.
DOES NANOBROW MICELLAR MAKEUP REMOVER WORK ON SENSITIVE SKIN?
The micellar face and eye makeup remover from Nanobrow is gentle on the skin but ruthless on dirt, debris, and all cosmetics you want to wash away. It works quickly and thoroughly: it does not require rubbing the skin and it is non-irritating for the skin. A small amount of this micellar water is enough to remove your face and eye makeup thoroughly. Owners of sensitive skin can also use it every day.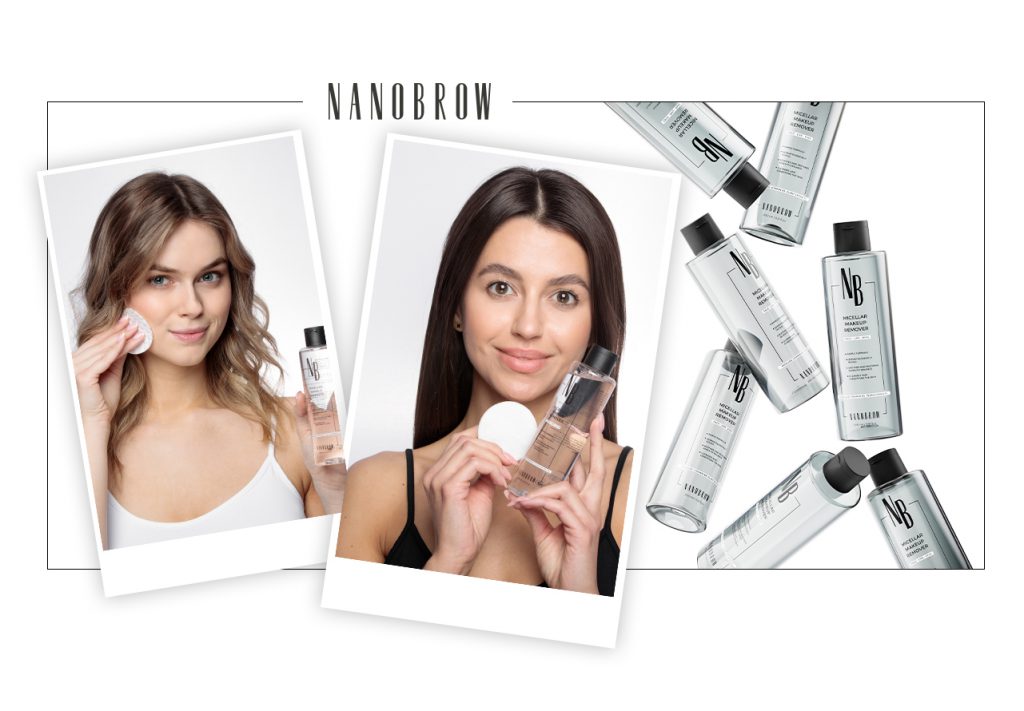 DOES NANOBROW MICELLAR MAKEUP REMOVER CONTAIN CONDITIONING INGREDIENTS?
Of course, it does! Nanobrow Micellar Makeup Remover is not only a makeup remover but it also conditions the skin at the highest level! The formula contains regenerative niacinamide, which revitalizes the skin, balances sebum, closes pores, and helps combat imperfections, as well as rejuvenates the skin and slows down the aging process. Pomegranate extract, in turn, is a powerful antioxidant that deals with free radicals and delays wrinkles. Aloe vera is a true vitamin bomb for your skin! It contains almost 150 biologically active ingredients with beneficial properties on the condition and appearance of the skin. It perfectly moisturizes, nourishes, and improves the condition and appearance of the skin, providing it with a portion of precious minerals, vitamins, plant sterols, and flavonoids.
HOW TO USE NANOBROW MICELLAR MAKEUP REMOVER?
Nanobrow's micellar water should be used like any other traditional makeup remover: simply soak a cotton pad in the micellar water and press it against your skin to cleanse your face, eyes, lips, and neck. Repeat this process until the cotton pad is clean. Then you can use a face-cleansing gel and a face toner. You can use Nanobrow's micellar water in the morning and evening.
WHERE TO BUY NANOBROW MICELLAR MAKEUP REMOVER?
This recommended micellar water should be on offer in Douglas, Sephora, Walmart, Bloomingdales, and other renowned beauty stores but it might be available at different prices. It's worth comparing the prices to find the most affordable option. You can also always order it from www.nanobrow.us, the brand's Nanobrow official store. We wish you a great shopping experience!