Nanoil Argan Oil – the organic Moroccan oil for skin and hair
The unique long-living Argan trees grow exclusively in one region – southwestern Morocco. It's not without a reason argan oil is called the "liquid gold of Morocco": not only due to its golden colour, but also its special properties. Which argan oil is the best?
Look for manufacturers who produce unrefined and certified natural oils. During the refining process, the oil loses most of its beneficial properties. The one that's been receiving loads of positive reviews is Nanoil Argan Oil – a natural argan oil from the Nanoil brand, which specialises in natural, yet modern formulas. Their "liquid gold" is a luxurious, yet affordable product.
Nanoil Argan Oil – properties
Nanoil Argan Oil is a fully natural product that contains vitamin E, carotenoids, squalene, natural antioxidants, and EFAs (essential fatty acids) – mainly oleic and linoleic. They are responsible for regulating the water content in the skin: they maintain the proper level of hydration and prevent water loss. Linoleic acid is a natural component of human sebum, which leaves the skin moisturized, soft, and firm. Nanoil Argan Oil is a source of more than 100 ingredients that turn it into an effective weapon in the fight against free radicals, skin ageing, loss of radiance and resilience.
Nanoil Argan Oil – how to use it?
Hair, lashes, and brows: the oil is great for the hair oil treatment, protecting the ends, and as an extra ingredient in conditioners and masks. It helps the hair restore its natural shine and resilience. Regular application of Nanoil oil to the ends can protect them from high temperatures and mechanical damage. It provides perfect protection from wind, sun, and frost. You can also apply the oil to your brows and lashes as a replacement for your conditioner or serum.
Face and body: you can easily replace your oil-based serum with Nanoil Argan Oil. Thanks to its antioxidant properties, it helps your skin restore its youthful freshness, reduce wrinkles and fine lines, and calm any blemishes. Don't forget about your eyes! The oil can minimise dark circles, eye bags, and puffy eyes. You can freely combine it with other cosmetics like creams, masks, scrubs, makeup removing oils. In body care, it's used to regenerate dry skin, soothe sunburn and razor burn, and improve skin elasticity. Body massage using the Nanoil oil can combat the unsightly orange peel skin and stretch marks.
Nanoil Argan Oil – is it worth getting?
Is your skin constantly dry and your ordinary moisturisers don't work?
Is your hair frizzy and straw-like?
Do you use a hair dryer, curling iron, or straightener every day?
Do you want to grow out your brows and lashes quickly?
Do you struggle with orange peel skin, stretch marks, and blemishes?
Do you create your DIY cosmetics?
Do your nails need strengthening?
Do you like multi-purpose, natural products with simple ingredients?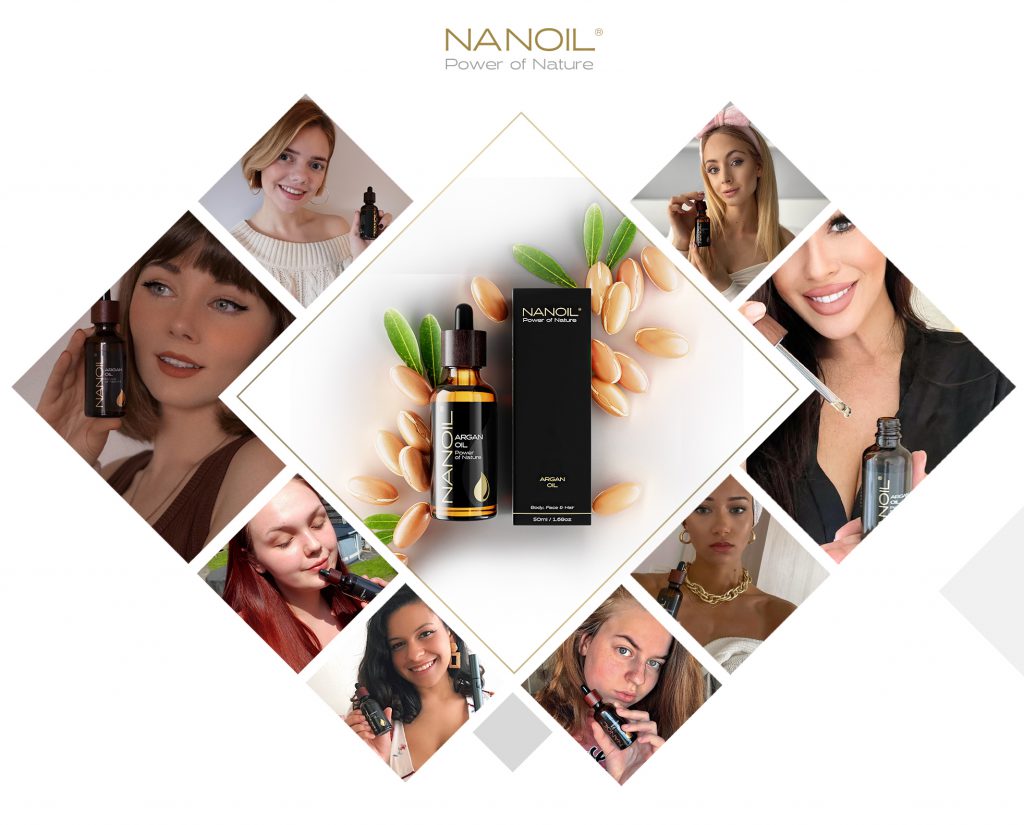 If you answered YES to most questions, the oil is perfect for you! Don't hesitate and order yours today from www.nanoil.us.
---