Are you looking for the perfect, natural oil that will provide you with healthy hair, strong nails, and flawless skin? Choose Nanoil Castor Oil, the highest quality castor oil available on the cosmetic market. It has a lighter formula than the pharmacy-sold castor oil, so you can successfully apply it to your entire body, brows, and lashes.
Nanoil Castor Oil is certified by Ecocert – a certificate issued only to the best ecological cosmetics. The oil is extracted from castor seeds in the cold-pressing process. It is unrefined and 100% organic, and comes in a luxurious amber glass bottle to retain all its precious properties.
What does castor oil contain?
Castor oil is mostly made up of an organic fatty ricinoleic acid, which can't be found in other oils. It also contains acids from omega groups, as well as valuable vitamins (A, E), and minerals.
Nanoil Castor Oil is organic and not tested on animals, and it can be used even by allergy sufferers and people with sensitive skin. This is a must-have for every woman who values multi-purpose, versatile products, created in harmony with nature. Nanoil has found a solution to every skin problem. It contains a carefully selected blend of active ingredients beneficial for all hair and skin types.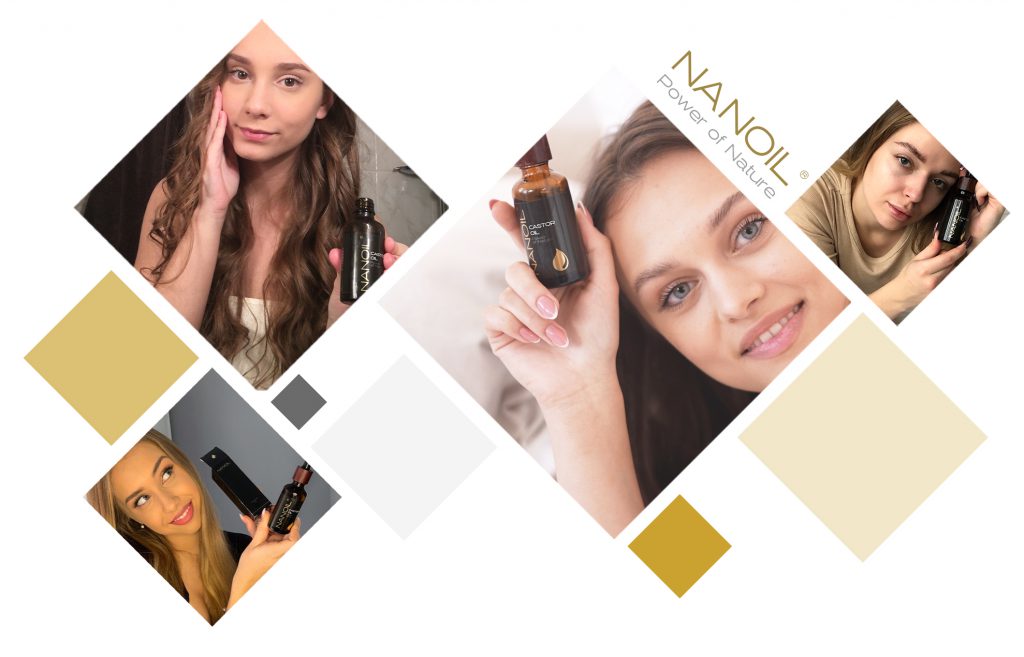 Nanoil Castor Oil Benefits
It has antibacterial and antifungal properties, thanks to which it can cope well with bothersome blemishes and acne. It encourages the growth of brows, lashes, and hair, adding spectacular volume and shine. It strengthens, nourishes, and moisturizes the skin, supporting skin regeneration. It gently lubricates the skin, preventing moisture loss. It has a regenerative effect on damaged and weak nails, and also gently darkens and thickens hair, lashes, and brows.
How to use Nanoil Castor Oil?
It is a versatile cosmetic that can be applied to the body, face, and hair. It can also be massaged into nails and added to baths and DIY beauty products. It has unlimited uses, depending on the needs of your skin.
– For your hair
It strengthens the locks and works as a perfect serum to protect the ends. Regular application of castor oil to the scalp stimulates the hair follicles, prevents hair loss, and minimizes the risk of baldness. The product provides your hair with a natural and beautiful shine. It leaves your hair feeling nourished, hydrated, and regenerated.
– For your lashes and brows
It regenerates and naturally darkens the lash and brow hairs. It stimulates hair growth, adds volume, and prevents the hair from falling out. This natural conditioner boosts shine, strengthens, and adds volume.
– For your skin
The oil has a light formula, making it perfect for the firming anti-cellulite treatment. Massage the areas affected by orange peel skin and you will quickly notice an improvement.
– For your nails
Soak your hands in warm oil. With regular use, this treatment can strengthen and regenerate even the most damaged, brittle, and splitting nails. You can also massage the oil into your nails and cuticles every day.
– For your face
Mix the oil with water or other oil and use the mixture as a face cleanser. It can wash off even waterproof makeup and all kinds of impurities. Use a small amount of oil and later rinse your face with warm water.
Nanoil oils are multi-purpose, organic products of the highest quality. It's up to you how you use them. Put yourself in good hands and reach for the highest level of skin care. Strengthen your brows, lashes, hair, and nails with one product. This natural product is most eagerly chosen by both consumers and professionals.
More information: nanoil.us