Ghasel Maltese Honey Face Moisturiser – A Good 20+, 30+, 40+, 50+ Moisturizer!
Looking for a good face cream suitable for all skin types and ages? The Maltese brand – GHASEL, knows moisturizing is the secret to good skin care. Discover the unique Ghasel Face Moisturiser and experience the richness of natural ingredients.
This is the face cream you've been looking for! It contains everything a good moisturizer should have: a dose of top-quality humectants and emollients and nourishing, soothing and toning plant extracts and vitamins. Its pleasant, velvety formula glides perfectly on the skin. Although it's highly nourishing, it doesn't overburden the skin and doesn't clog pores. It wraps you in a pleasant aroma and perfectly moisturises to ensure your skin doesn't lack elasticity, smoothness and suppleness.
Ghasel Maltese Honey Face Moisturiser – ingredients
It has an excellent formula, free of any accidental ingredients. Which substances nourish your skin?
Maltese honey
It's not only sweet but also full of antiseptic properties and its beneficial properties for health and skin care have been known for centuries. Maltese honey is one of the oldest kinds of honey in the world. The Maltese people claim it's the sweetest honey in the world! It is an excellent cosmetic ingredient for both mature and young skin. It soothes dryness, strongly nourishes and combats imperfections, so you'll love it if you struggle with skin inflammation or adult acne, which increasingly bothers women. Various valuable ingredients in Maltese honey contribute to smoothing wrinkles. This unique ingredient promotes the healing of wounds and inflammation, and above all, it brilliantly moisturizes.
Shea butter
This natural emollient is a plant-based oil extracted from the fruit of the Shea butter tree. Shea butter is an important ingredient in beauty products as it contains valuable fatty acids, including oleic and linolenic acids, and phytosterols that cocreate cell membranes. Its formula also contains soothing allantoin and vitamins A and E. Shea butter perfectly softens the skin, promotes skin regeneration and has anti-aging properties.
Caffeine
It stimulates microcirculation, improves skin tone and restores radiance. It also fights free radicals, preventing skin aging.
Vitamin E
The most popular "vitamin of youth" is an important ingredient in many face creams. It neutralises free radicals and prevents oxidative stress. It stimulates the production of collagen and elastin and combats loss of suppleness and elasticity.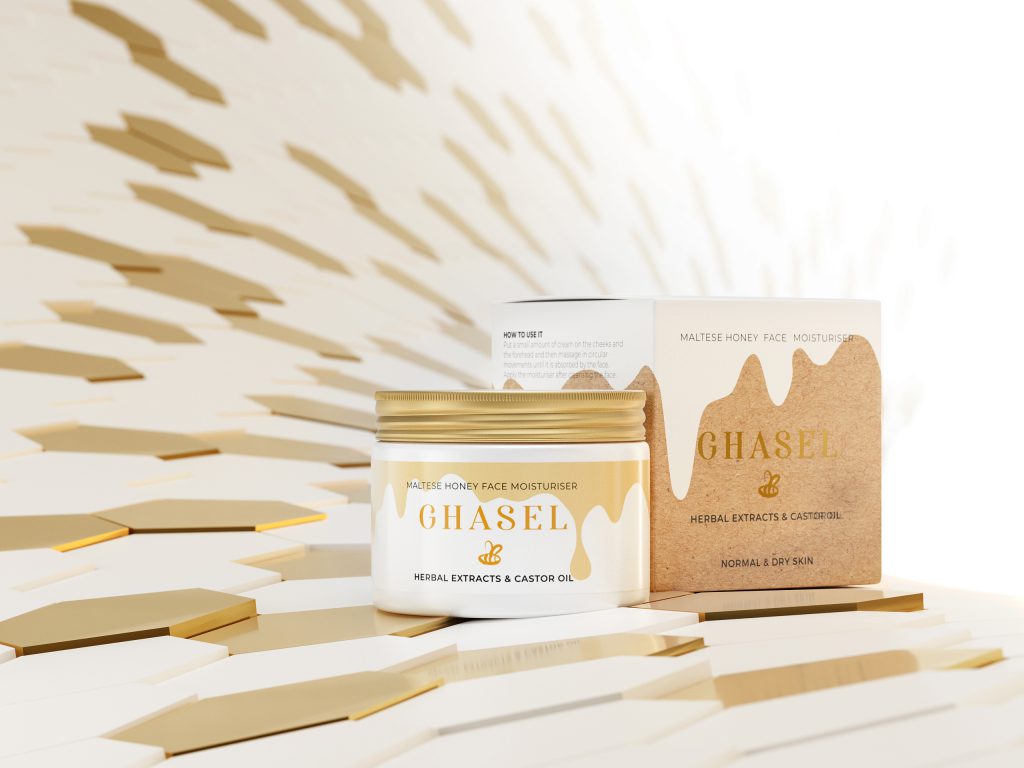 Ghasel Honey Moisturiser – results
It delivers immediate relief even to very dry skin and it moisturizes and smooths the skin perfectly. Its lightweight formula is great under makeup and as a rich night cream. It nourishes, conditions and tones the skin 24 hours a day. Used regularly, it slows down the skin aging process. It's efficient and its application is a pleasure. This is exactly how a good face moisturizer should work! Learn more about the product: www.ghasel.mt.
---