Hydrating body cream with Maltese honey from Ghasel gains more popularity with each day. If your skin is so dry that no moisturizer can handle its low hydration levels, it's time for a game-changer. By using Maltese Honey Body Cream you will forever get rid of dehydrated skin!
Velvety smooth and hydrated body with Ghasel
The properties of Maltese honey are incredible. It's a luxurious ingredient that is the main component of Maltese Honey Body Cream. After all, what mother nature offers is always the best.
The beneficial effect of honey is clear to see. The body becomes soft, and smooth, has an even skin tone and it's full of a youthful glow. It gains an incredible portion of hydration, and nourishment while its wounds heal faster. Minor wrinkles and furrows are less visible – it's all due to its rich composition.
Honey straight from Malta is really exceptional. It's composed of up to 85-90% thyme pollen which results in a cream that is unmatched in fighting against skin imperfections. It's full of vitamins, and bio elements, very valuable when it comes to skin care: vitamins A, E, D, and C as well as B group vitamins; macroelements: calcium, magnesium, sodium, potassium, phosphorus; microelements: iron, zinc, manganese, silicon, selenium. It's truly the best dose of nourishing ingredients for your tired, dull skin.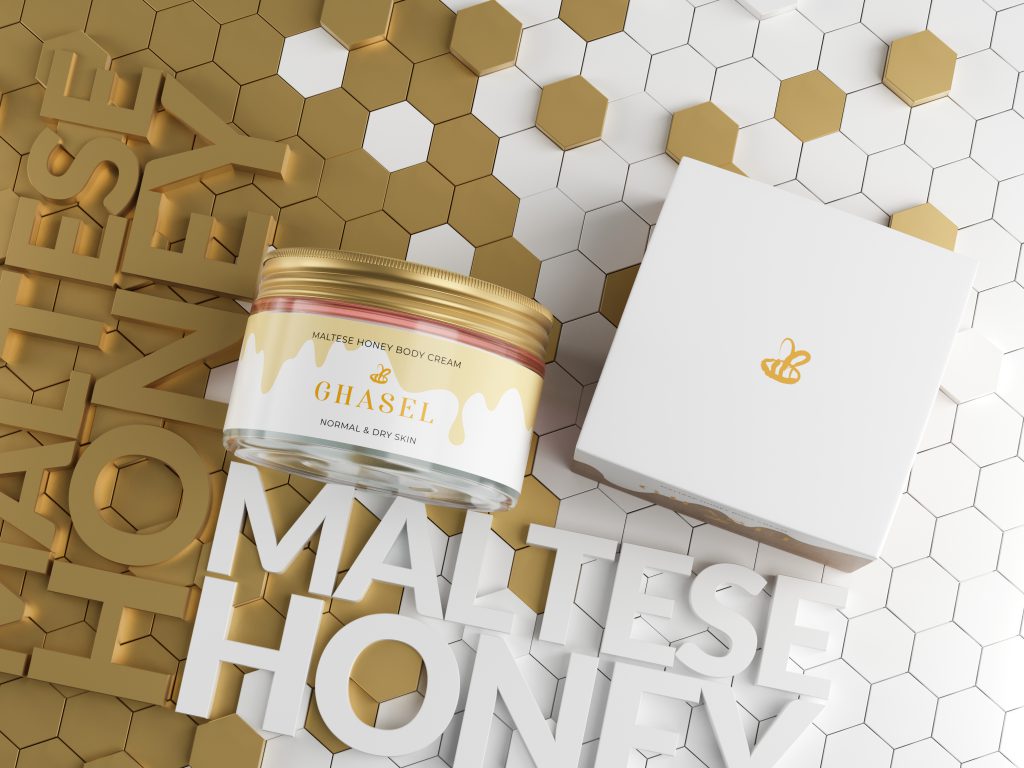 Maltese Honey Body Cream
Choose a product that will be able to restore your skin's balance and harmony. Go for an expert in the skincare world – Ghasel Maltese Honey Body Cream.
Its delicate formula is quickly absorbed by all skin layers, providing energy throughout the day. The richness of Maltese honey, its antibacterial and anti-inflammatory properties combined with the soothing, pleasant scent bring maximum comfort of use. They will quickly restore firmness and elasticity to your skin.
The cream is enhanced with horse chestnut seed extract that strengthens blood vessels and has an anti-inflammatory effect that combats free radicals. Another ingredient of the cream, vitamin B12, smooths out minor wrinkles and furrows. It's essential when trying to improve the overall skin condition. Marshmallow plant extract increases the hydration of the skin, protecting it from environmental damage.
Vitamin E is a tocopherol that effectively fights free oxygen radicals and reduces oxidative stress. It inhibits inflammation formation, smooths wrinkles, and protects from the loss of firmness. It also stimulates collagen and elastin production, responsible for the skin's young appearance.
Shea butter is a natural emollient, that oils and regenerates the skin intensely. It prevents water escape from within the epidermis and the formation of wrinkles. Avocado oil moisturizes and regenerates the skin, which is possible to its high content of vitamins and beta-carotene.
Is Ghasel Maltese Honey Body Cream for me?
The cosmetic has been designed with every skin type in mind. It's able to adapt to your skin's needs. By using Maltese Honey Body Cream every day you can be ensured your body won't lose precious hydration.
The Ghasel body cream has earned many favourable consumer opinions all around the world. It's not surprising – it's the best cosmetic for which you are the most important. It knows well what to do so that you can feel comfortable in your own skin.
Don't waste time! Choose Ghasel Maltese Honey Body Cream and enjoy the natural beauty of your body! Visit ghasel.mt