Brow lamination at home? Why not! Nanobrow Lamination Kit is designed not only for professional salons but also for home use. Find out what makes it one of the most popular lamination kits and why girls have gone crazy for the brow lift treatment at home!
Eyebrow lamination – a hack for perfectly styled brows
Remember the soap brow trend? The whole world was obsessed with soap brows! Now you can achieve the same effect for weeks to come. All you need is a good brow lamination kit and you can easily style your brows by yourself at home!
The lamination treatment allows you to style your brows to ensure you don't have to worry about their look for weeks. They always look neat and flawless, and a home brow lift brings out the maximum potential of your eyebrows as it gives them a beautiful new shape. Feeling tempted to try brow lamination at home before and wondering which kit to choose? Nanobrow Lamination Kit is ideal for brow lamination treatment at home.
Brow lamination and lift kit – Nanobrow Lamination Kit
Did you know this brow kit stands out from the other, more intricate kits, with a huge amount of different solutions and complicated instructions? This is one of the most enjoyable and easiest lamination kits, which features:
Perfectly thought-out formula: it contains only 3 necessary bottles and a set of applicators.
Comes with very easy instructions.
The bottles are clearly numbered: a perfect way for an easy, at-home brow lamination. This makes your job easier – it's impossible to get the order wrong and reach for the wrong one.
It comes at an affordable price
Brow lamination with the Nanobrow kit at home takes just 15 to 20 minutes!
This brow lamination kit doesn't require using cling film!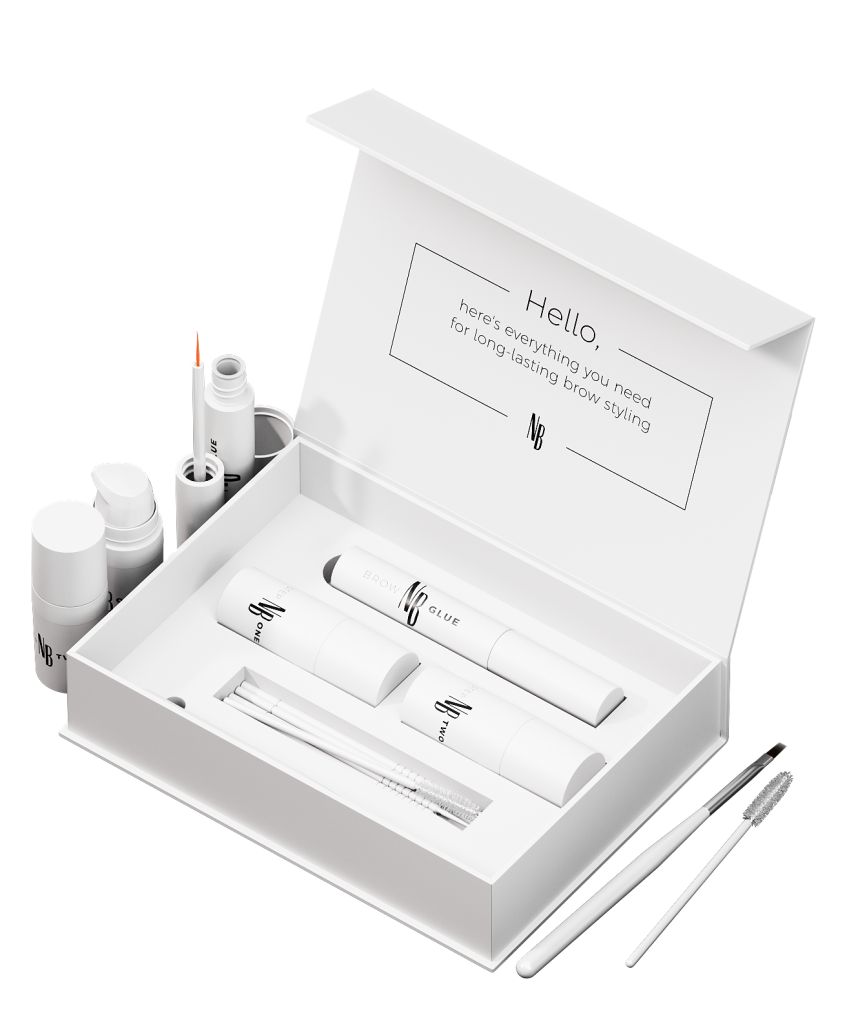 Nanobrow Lamination Kit – reviews
Nanobrow Lamination Kit is a brow lift and lamination kit that keeps getting more and more popular. It is easy and very convenient to use, and also super efficient. The solutions are perfectly formulated to ensure you can enjoy the effect of perfectly styled arches for many weeks. Certainly, brow lamination improves the effect of brow tinting, so often these two treatments are combined to achieve the effect of stunning eyebrows!
How to do brow lamination at home with the Nanobrow kit?
A good brow lamination kit? It should come with simple and clear instructions to ensure you can manage it by yourself, even if you've never tried a brow lift treatment before. How to perform brow lamination with Nanobrow Lamination Kit? Just take a look:
CLEAN YOUR BROWS – they should be dry and free of any oily residues. Oils and sebum worsen the effect of the products.
APPLY THE GLUE ON THE BROWS – (the bottle labeled Glue). Keep it on for 30 seconds.
APPLY THE LIFTING SOLUTION (Step One). After 5-8 minutes, wipe it off with a dry cotton pad
APPLY THE FIXER (Step Two). After 5-8 minutes, wipe it off with a moistened cotton pad.
That's it! That's how to do eyebrow lamination at home with the Nanobrow kit! Isn't it easy?
Brow lamination with the Nanobrow kit – effects
How do the eyebrows look following the lamination treatment? First of all, they gain extra volume, they are perfectly brushed-up and more prone to styling. You can enjoy this beautiful eyebrow shape for about 1.5 months, and sometimes even longer! You can compare the effect to the one you achieve by styling your eyebrows with brow soap or gel, except that laminated brows look perfect day and night, while you have to wash away the soap and gel in the evening while removing your makeup.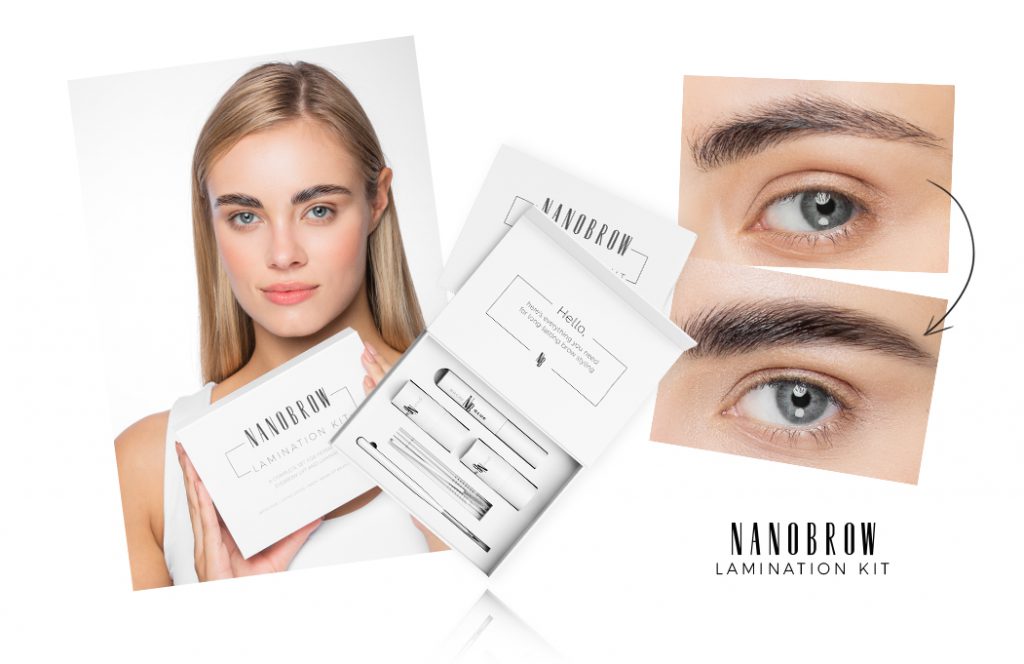 Nanobrow Lamination Kit – price
What is the price of Nanobrow Lamination Kit? You will be pleasantly surprised to learn that the kit is enough for about 10 treatments but costs as much as one brow lamination at a professional salon! This is definitely a purchase worth the investment!